Meet the Team at Bluegrass Veterinary Hospital in Gallatin TN
April Lynch-Zimmerman, DVM
With an innate talent for providing high-quality patient care with a focus on client communication, Dr. Lynch looks forward to meeting new pet owners (and their pets) each and every day. She enjoys the opportunity to provide medical care, guidance, and individualized attention to every client and pet she treats.
Dr. Lynch knew from the age of eight that she wanted to be a veterinarian. When she was a child, she wanted a pet but she did not have one. Nonetheless, her intense desire to love and care for animals was apparent from an early age, and she used her unyielding love for caring for dogs and cats to propel her into veterinary school. The things Dr. Lynch loves most about practicing as a vet are saving an animal's life and relieving suffering.
Dr. Lynch and Dr. Zimmerman met in vet school at the Auburn University College of Veterinary Medicine. They were introduced to each other on the very first day of school, and their connection was immediate. Now, they are the proud parents of four children who are involved in the daily operation of Bluegrass Veterinary Hospital. When she's not working, Dr. Lynch enjoys homeschooling her children, working part-time as a professional thrifter, traveling, event planning, photography, and creative writing.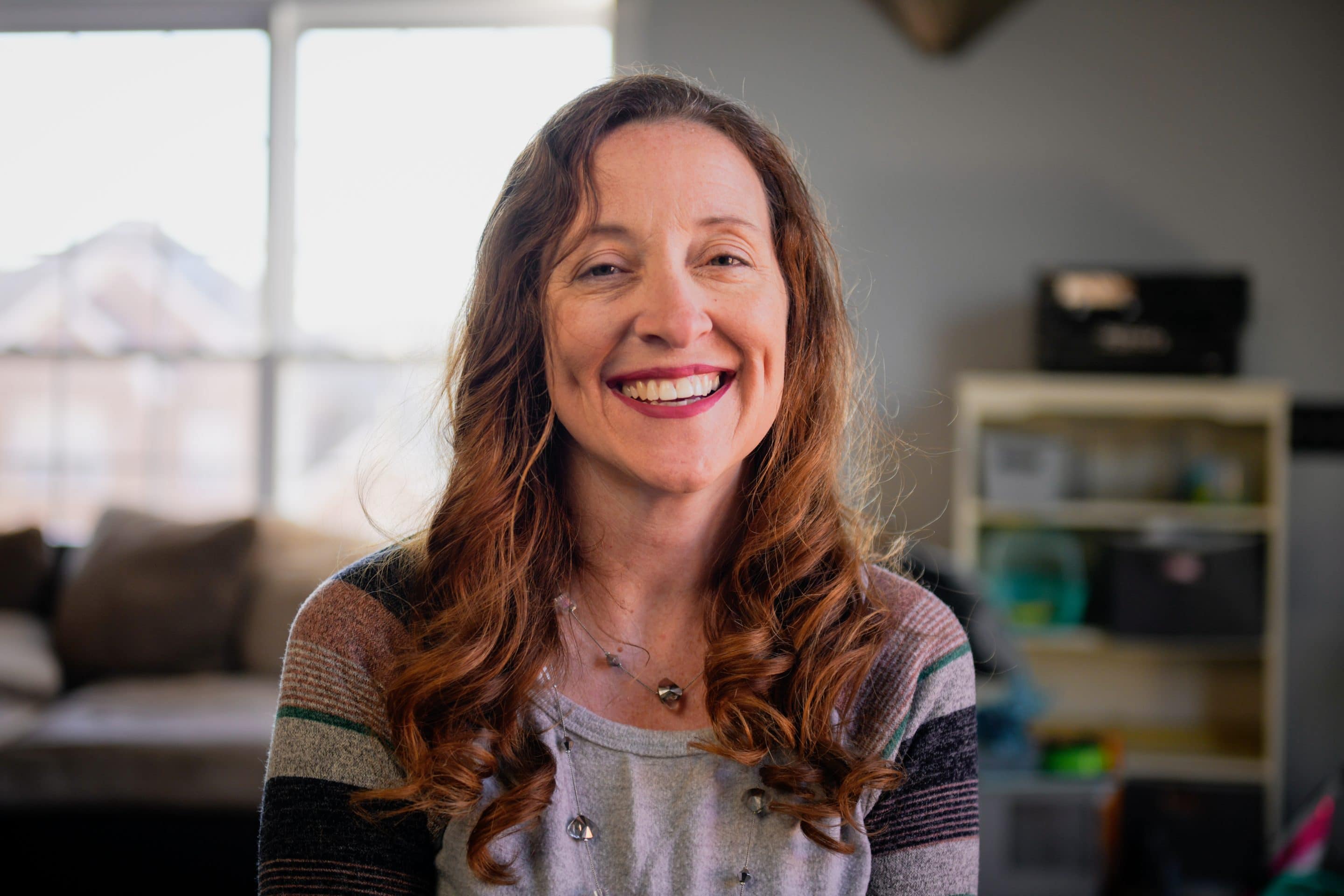 Education
Auburn University College of Veterinary Medicine, DVM
Benjamin L. Zimmerman, DVM
Back in 1983, after Dr. Zimmerman spent time on his uncle's chicken farm in Ephrata, PA, he decided he would someday become a veterinarian. He worked on various farms belonging to relatives during his childhood summers, but in 1983, there was an Avian Flu outbreak in Pennsylvania. At the young age of eight, he helped the local veterinarian who was evaluating his uncle's chickens to collect a few for an examination. The vet showed Dr. Zimmerman what he was doing, explained what he was looking for, and took time to teach him a bit about veterinary medicine. This experience stuck with him and guided him to his current career as a veterinarian. After working during his youth on chicken, pig, dairy, and beef farms (which seemed to have many cats and dogs roaming around), he began working as a veterinary assistant.
Dr. Zimmerman and his wife, Dr. Lynch, are the proud co-owners and founders of Bluegrass Veterinary Hospital, a comfortable place for their team to work, provide a great client experience, and meet the medical needs of their furry patients. More than anything, he enjoys talking with pet owners about their pets. When he's not in the office, Dr. Zimmerman can be found playing the fiddle, cooking, entering baking contests, camping with his family, fishing, and teaching his children to cut wood and build fires and cook, and taking care of the family pets: a dog, a gecko, a hamster, and three guinea pigs.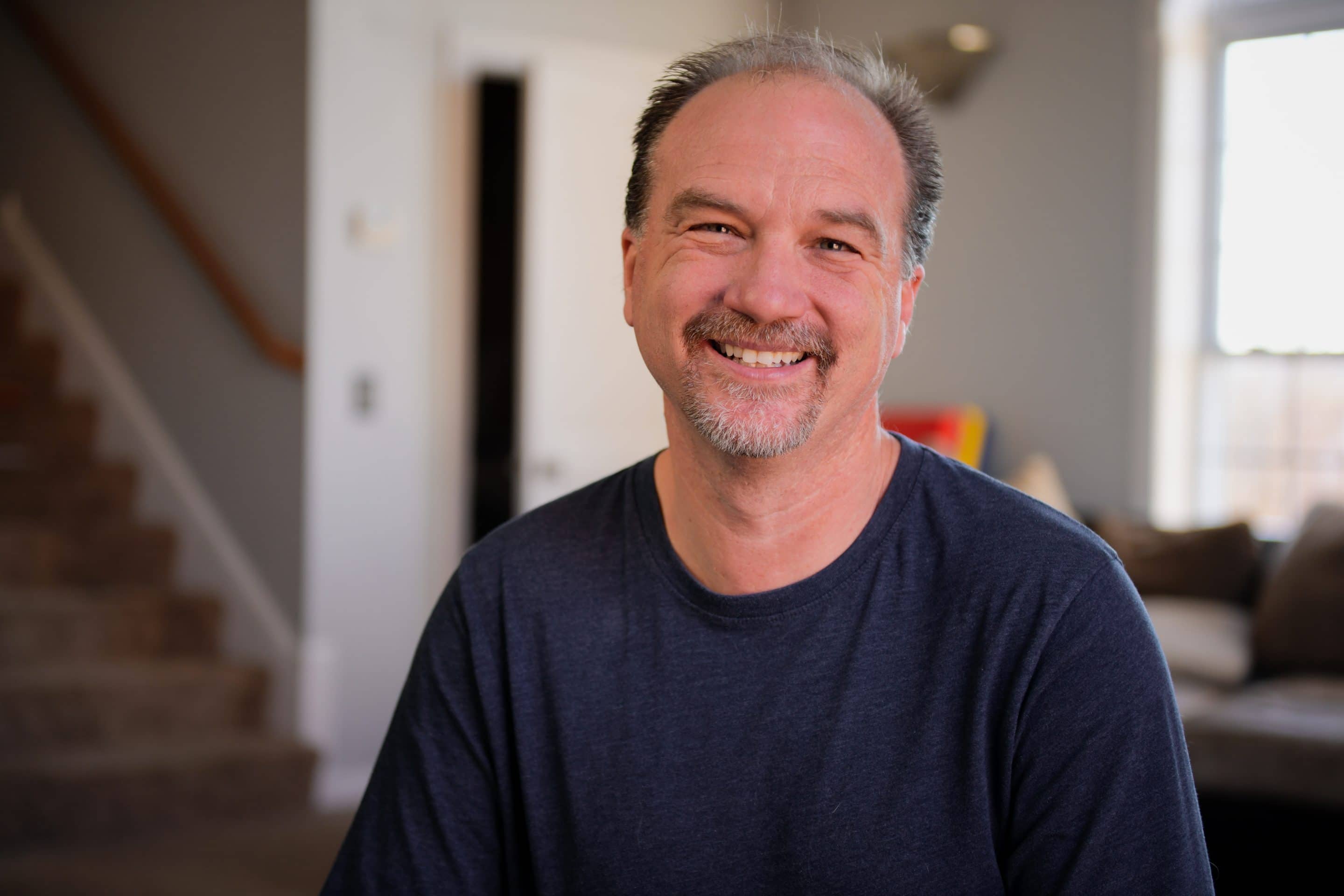 Education
Auburn University College of Veterinary Medicine, DVM
Clarion University of Pennsylvania, Bachelor of Science
Expect Kindness & Compassion
Comprehensive Veterinary Care for Your Four-Legged Family Member.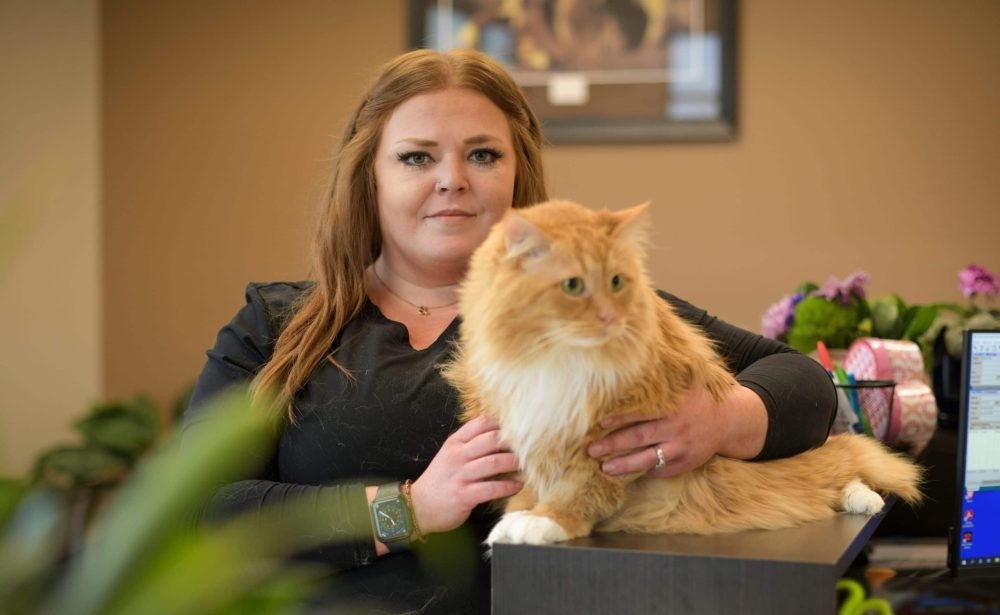 Molly Bridges – Practice Manager/Licensed Veterinary Medical Technician
Molly is a multi-tasker who excels in finding creative solutions to the daily aspects of practice management. She pays close attention to the details to better support all Bluegrass team members and coordinate the activities of the practice.
Molly is a 2013 graduate of Volunteer State Community College where she studied veterinary technology and medical office management. She has worked in general practice and emergency medicine at Nashville Pet Emergency Clinic and BluePearl Specialty + Emergency Pet Hospital. Molly is passionate about reducing the fear and anxiety felt by pets and has been a Fear Free Certified Professional since 2016. She is also a certified cat friendly veterinary professional.
Her hobbies include crafts, cooking and caring for her succulents and cacti. She loves spending time with her husband, son and three cats (Grandpaw, OJ and Sandy).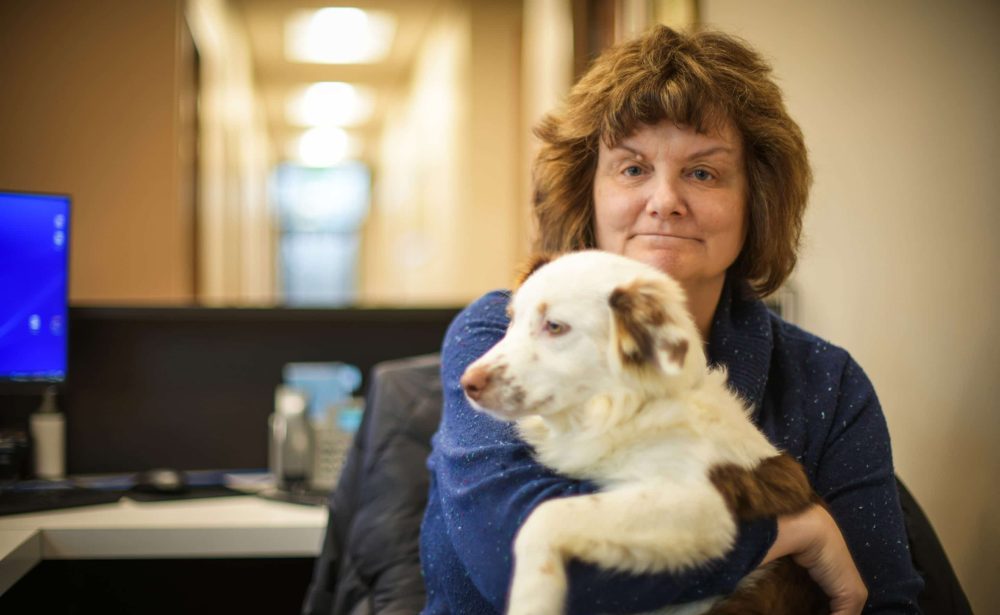 Kate Lee – Customer Service Representative
Kate brings more than twelve years of customer service experience to her role at Bluegrass Veterinary Hospital. She is responsible for greeting our clients on the phone, scheduling appointments and processing payments from customers.
Prior to joining the Bluegrass team, Kate worked at BluePearl Specialty + Emergency Pet Hospital and a diverse range of organizations including banking, manufacturing, and warehouse companies. She is enthusiastic about the health and well-being of animals and enjoys being part of the kind, caring and professional Bluegrass Veterinary Hospital team.
Kate has been married to her husband, Alan, for 29 years. Her daughter, Danielle, is currently studying Mass Communications in college. Kate and Alan are the parents of an Australian Shepherd mix named Bernie and a mini-Australian Shepherd named Jolene. In her spare time, she enjoys art, cooking, couponing, personal finance, and spending time with her family.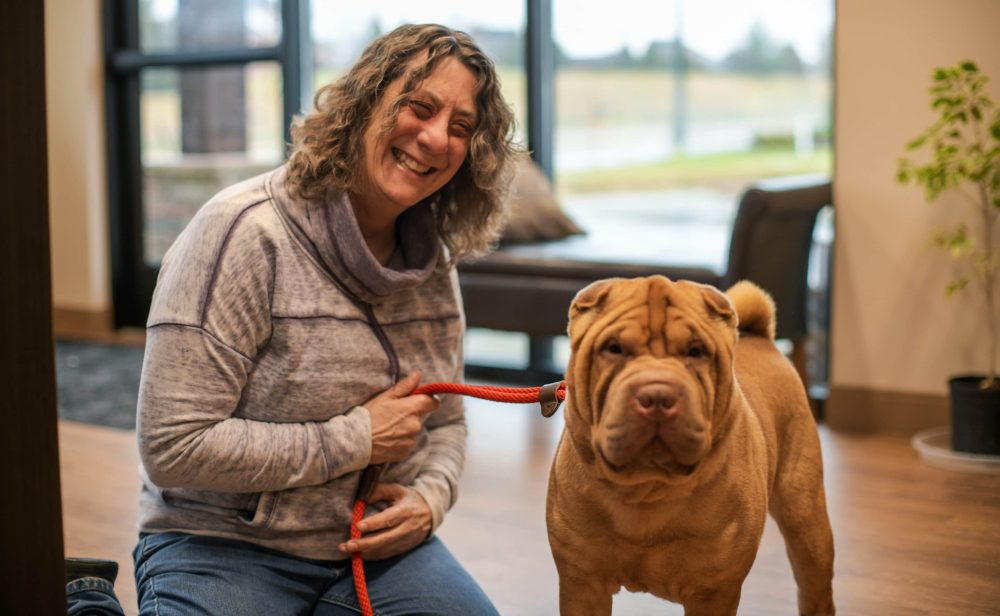 Terry Faulkner – Licensed Veterinary Medical Technician
Terry's journey to working with pets has taken her around the world. She graduated high school in Michigan in 1982 and, after attending college for two years, served in the Army from 1985-1989. During her time in the Army, Terry was stationed in Germany.
After realizing she wanted to make a difference by advocating for pets, Terry earned her Bachelor of Science in Agriculture-Veterinary. Terry has worked in general practice, dermatology, reproduction, and ER settings. She brings experience, compassion, communication, and technician skills to her role and works to do what is best for both the pet and their owner.
Terry has been married since 1988 to her husband, Shawn. She enjoys gardening on her farm and taking what she grows to a farmers market. Terry also shows Shar-Peis, and she likes to beat the clock at escape rooms.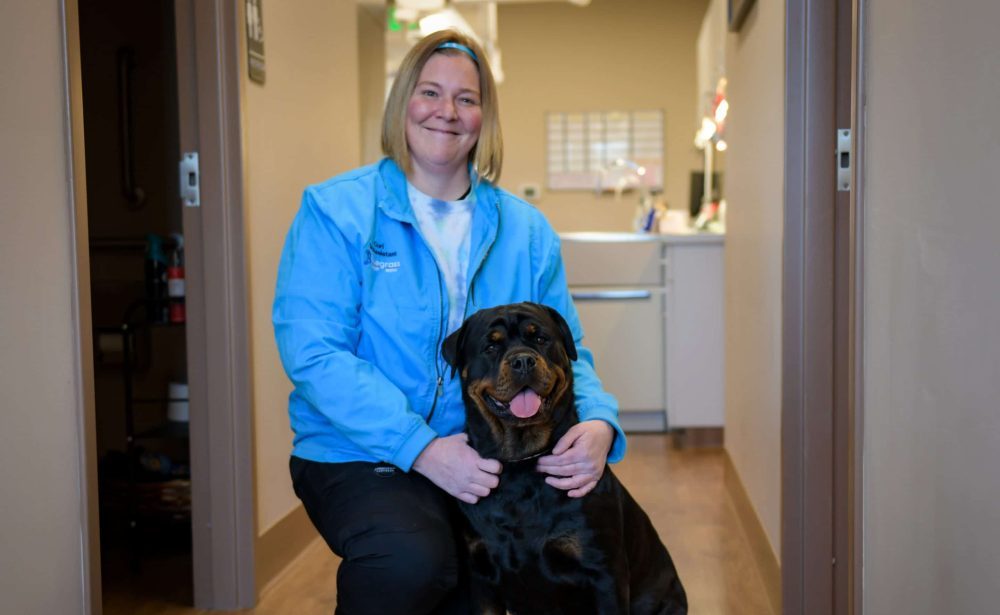 Cori Kresse – Front Desk/Veterinary Technician
Cori has always shown a passion for helping dogs and cats. She turned her desire to help animals into a career by managing the "Love at First Sight! Adoption Center" for six years as well as working as a technician at BluePearl Specialty + Emergency Pet Hospital for eight years (where she also worked with Dr. Zimmerman).
Cori's co-workers describe her as "upbeat and always willing to help." She loves people and pets and is excited to be part of Bluegrass Veterinary Hospital.
In her spare time, Cori is a hobby breeder who breeds for health, temperament, and confirmation. She has two rottweilers that show in confirmation in both American Kennel Club and Sieger Ring. Cori can also be found enjoying swimming, kayaking and other summertime activities.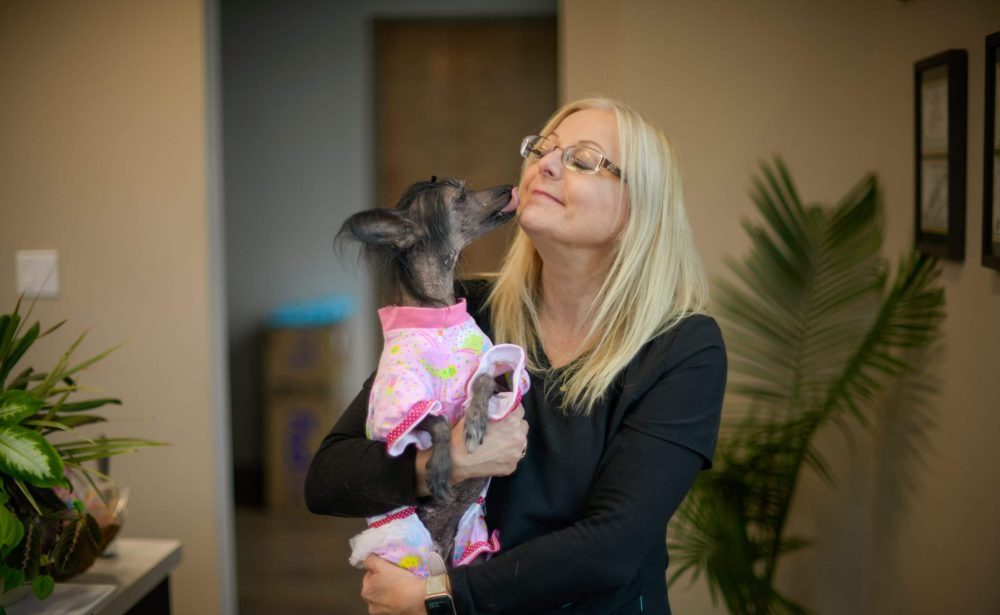 Julie Wells – Veterinary Technician
Julie's love for animals of all shapes and sizes started at an early age. Over the years, she has owned a variety of pets including dogs, cats, a skunk, an iguana, and a boa. She has worked in the veterinary field since 1986 after graduating from the San Diego Humane Society Veterinary Assistant Program.
Over the years, she has performed a variety of roles at various hospitals including dermatology and emergency care. Julie treats patients as if they were her own pets and interacts with their owners the way she would want to be treated. She believes compassion and genuinely enjoying what you do is vital to being successful in life.
Married to her best friend since 1985, they have bred and shown Chinese Cresteds since 1992. Besides spending time with her dogs, Julie enjoys going to concerts, fairs and exploring the state of Tennessee.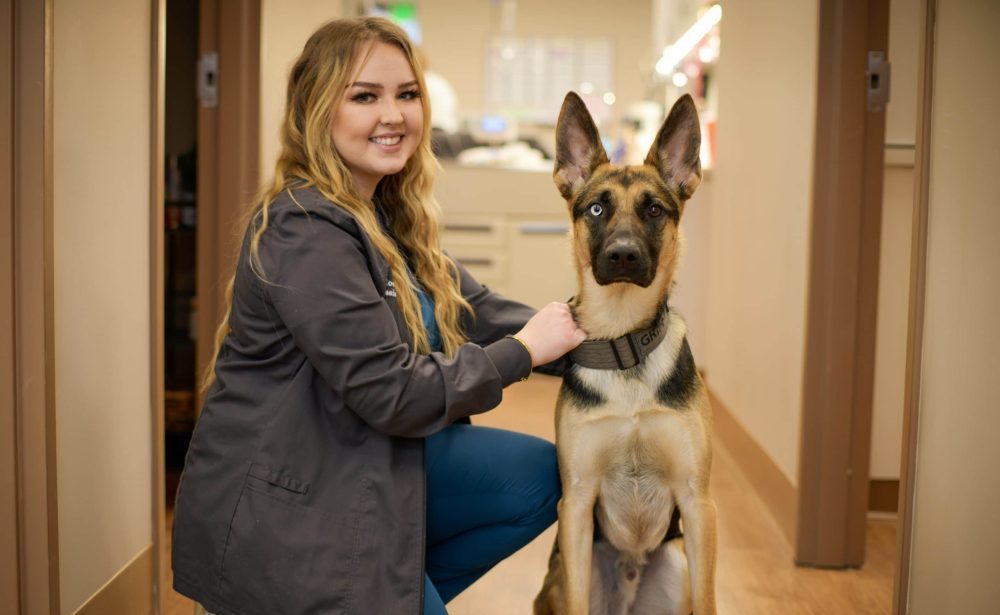 Zoe Homan – Veterinary Assistant
Zoe is new to the Nashville area as she moved here in 2021. While growing up in Lancaster, PA, she discovered both her love for helping animals and her ongoing desire for learning.
Zoe went to school to study medical coding but soon realized she wanted to continue working with animals. Her background in caring for animals includes being a horseback riding instructor as well as a groomer.
She continues to enjoy horseback riding along with hiking with her dog, Griffyn.